Mae Lacey ('18). Mae, an Animal Behavior major at Bucknell, spent the 2017 summer field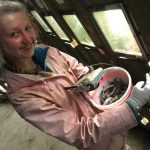 season on Middleton Island, not only serving as a member of the core seabird field crew on the island and as Dr. Benowitz-Fredericks's field assistant, but also conducting her own honors thesis research on effects of nest microclimate on behavior, physiology and reproductive success of black-legged kittiwakes. In addition to winning a Goldwater Fellowship in recognition of her exceptional potential as a scientist, Mae won a Sigma Xi award to support her research in 2017. When she's not sciencing, Mae can be found involved in Bucknell's Outdoor Education program and taking photos.
Nigel Ravida ('18). Nigel is a Cell Biology/Biochemistry major at Bucknell. During the summer of 2016, Nigel served as an undergraduate research assistant in the Bucknell biology department where he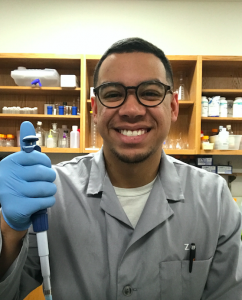 co-authored the scientific publication "Segregation of the amphitellically attached univalent X chromosome in the spittlebug Philaenus spumarious (2017)". Nigel was the recipient of the Bucknell George R. Faint Prize,which recognizes a student in liberal arts whose work during their first, sophomore and junior years is of generally high quality and gives promise to future excellence. Outside of the classroom, Nigel has served as the Vice President of Operations for Bucknell Student Government and the President of the Pre-Health Society. Nigel now currently serves as the Chair of Outreach for the Bucknell Black Student Union. Upon graduation, Nigel plans on gaining research experience in the biomedical field while applying to medical school.
Paige Collins ('18). Paige is a Cell Biology/Biochemistry major at Bucknell. She currently conducts research in the Benowitz-Fredericks lab on avian physiology. She presented a poster at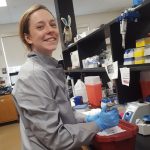 the Kalman Research Symposium in 2017 for comparative genomics work on fruit fly contiguous sequences as part of a computer research-based course taught by Dr. Le Paliulis, and delivered an oral presentation of the lab's work on the effects of acute food shortages on kittiwake chick growth and survival at Kalman in 2018. In addition to scientific interests, she is also a member of the Chi Omega Fraternity and works with the organization to raise money for Make.A.Wish Foundation.
Katie Edwards ('19). Katie is abroad in Scotland in Spring 2018, but preparing to work on a bioinformatics project over the summer, exploring sex differences in the expression of retroviral genes in free living kittiwakes. 
Manya Saaraswat ('19). Manya is investigating  begging and aggressive behavior in young kittiwake chicks, looking for predictors of siblicide and the effects of food size on these behaviors. 
Abby Joseph ('19). Abby joined the lab fully in Spring 2018. She's learning how to quantify hormones using EIAs in preparation for an experiment looking at the effects of developmental exposure to fadrozole on steroid production in embryonic chickens.  
Paige Caine ('21). Paige jumped straight into research her first semester at Bucknell, learning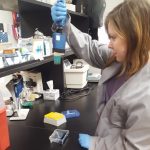 how to genetically sex kittiwake chicks using DNA from red blood cells her first semester, and moving on to quantifying corticosterone in plasma using EIAs in the Spring. She's planning to make her first trip to Middleton Island to work with kittiwakes in the field in Summer 2018.